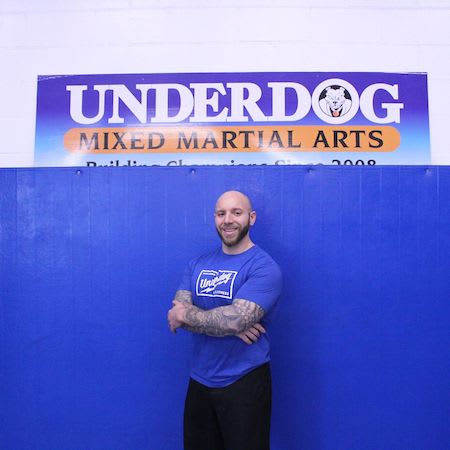 Coach John Durrett
Coach John Durrett has been working in the fitness/athletics industry as a personal trainer or strength and conditioning coach for over a decade. The former Head Assistant Strength & Conditioning Coach at Trinity College, he has a long history with the martial arts, possessing the rank of Black Belt in Shotokan Karate, Brown Belt in Brazilian Jiu-Jitsu under Diogo Araujo, as well as over a decade of experience training in kickboxing at Underdog MMA under Russell Leak. He is a Jeet Kune Do practitioner and an Assistant Instructor with the IMBCT (International Martial Arts and Boxing Academy of Connecticut) and is certified to instruct boxing, Muay Thai, Brazilian Jiu-Jitsu, Kali and Eskrima. For several years, John competed in the sports of Strongman, Powerlifting, Olympic Weightlifting, and CrossFit. Over the years, John has worked extensively with athletes of all ages and ability levels, from first-graders and senior citizens to Olympic athletes. In addition to his time as a collegiate strength and conditioning coach, he was also the S&C coach for several high school teams, and has coached at several gyms.
In 2007, Coach Durrett graduated high school weighing around 315 pounds: although he had been heavy his whole life, this was the most he had ever weighed. During his sophomore year at UConn (where he would go on to earn his degree in English Literature), he decided he had to do something or risk serious health complications. Immersing himself in the study of nutrition and exercise, he worked his way down to 170 pounds. Currently, Coach John is a NSCA CSCS and Power Athlete Block One Coach and has accrued more than a dozen other certifications and countless hours of continuing education. Having struggled with issues regarding diet and exercise himself, John coaches with the perfect mix of passion and compassion. In addition to being a strength coach, he has had much success as a personal trainer, helping hundreds of clients lose weight and get in shape. He has been hired to teach seminars around the country in the topics of exercise science, martial arts, and meditation.

Coach Durrett's Current Certifications: National Strength and Conditioning Association (NSCA) Certified Strength and Conditioning Specialist (CSCS), Power Athlete Certified Coach, Reflexive Performance Reset (RPR) Level 2 Practitioner, Prokreate Pregnancy and Post-Partum Trainer, Certified Gym Yoga Instructor, National Academy of Sports Medicine (NASM) Fitness Nutrition Specialist, Certified Meditation and Mindfulness Teacher with the School of Positive Transformation, Renaissance Periodization Certified Nutrition Coach (RP CNC), Assistant Instructor with the IMBCT
Past Certificates Held: CrossFit Trainer - Level 3 (CF-L3), USAW Olympic Weightlifting Level 2 Coach, USAW Olympic Weightlifting Programming Specialist, CrossFit Football Instructor, CrossFit Endurance Instructor, CrossFit Kids Instructor, CrossFit Gymnastics Instructor, CrossFit Strongman Instructor.