For Competition Or Self Defense, Our Wrestling Classes Have You Covered
Folk style wrestling is the style of wrestling practiced at the high school and collegiate level. What many people don't know is that wrestling, as we see it at the high school and college level, is actually a descendant of the world's oldest and most basic form of martial arts. We run a wrestling club for competitive youth wrestlers, and also run wrestling classes for adults who are looking to learn the sport.
Our wrestling class is rooted in Folk style wrestling but also draws from Greco Roman and Freestyle influences to complement both our striking and Brazilian Jiu-Jitsu classes. We teach the basics of wrestling to someone who has never wrestled before and also to those with advanced grappling experience. During our adult wrestling classes, special emphasis is placed on takedowns, takedown defense, positioning, and reversals for application in Brazilian Jiu-Jitsu and MMA training.
For more information, fill out the form on the side of your screen or click below!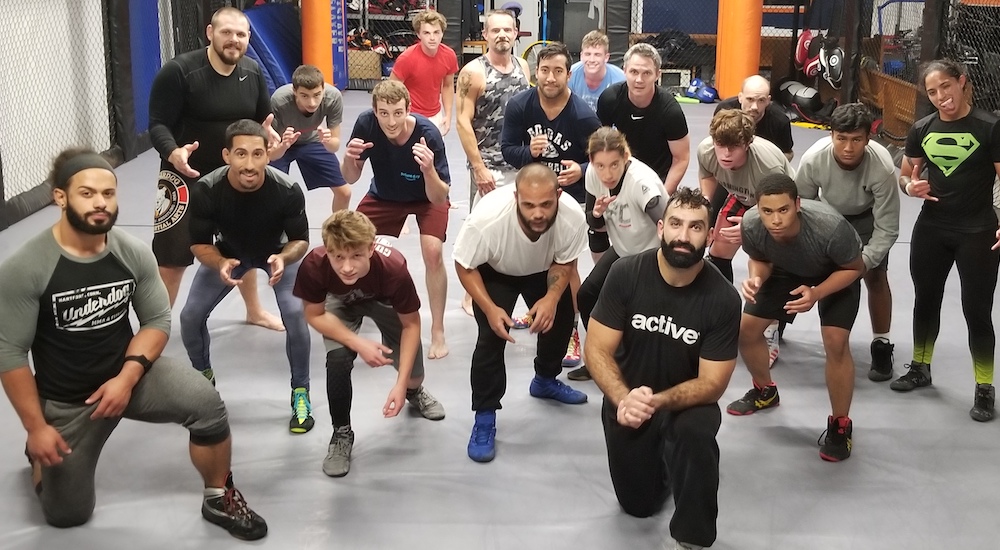 What Makes Our Wrestling Program So Special?
At Underdog Mixed Martial Arts, we are dedicated to developing the best wrestlers in West Hartford and beyond. Our coaching staff has experienced success on the local, state, and national level, and have committed themselves to maintaining that quality for every person who walks through our doors.
Join us in Hartford to improve your technique and strategy from day one. You'll learn how to establish leverage and control over an opponent from any position. As well, you'll understand why the transference of these skills are so critical in predicting success, even at the highest levels of wrestling, and combat sports as a whole.
In addition to the physical improvements, you'll discover the more intangible characteristics associated with successful wrestlers, which are just as important. In the words of Olympic Gold Medalist and famed wrestling coach, Dan Gable, "The 1st period is won by the best technician. The 2nd period is won by the kid in the best shape. The 3rd period is won by the kid with the biggest heart."
So, get started today, and develop the qualities necessary to win in all three periods with our:
Hands-on individualized instruction
High-level drilling
Hard-nosed conditioning workouts
Don't Miss Out On West Hartford's Best Wrestling Program
If you're looking for high-level Wrestling classes that can build your skills from the ground up in no time, come see us at Underdog MMA and take on the best instruction in all of Hartford and beyond.
We are proud to work with men and women of all ages and experience levels. Just fill out the short form on your screen or click below to get started today!